…helping people move from where they are to where they dream to be.
United Way of the Mid-South serves the greater Memphis area in improving the lives of Mid-Southerners by mobilizing and aligning community resources to address priority issues. As part of a strategy for creating equitable access to the fundamental resources and supports needed for people in the Mid-South to achieve their hopes and dreams, United Way of the Mid-South implemented a two-generation strategy, Driving The Dream™(DTD). Driving The Dream is a functional coordinated network of effective community-based services and supports to help families advance from where they are to where they dream to be.
AGENCY LIST
2Unique Community Salvation Foundation
Agape Child & Family Services
Alliance Healthcare Services
Alpha Omega Veteran Services, Inc.
American Red Cross, Mid-South Tennessee
America Works
Amerigroup
Anaya Partnership/Youth Villages
Bethany Christian Services
Big Brothers Big Sisters of the Mid-South
Binghampton Development Corporation
Birthright Memphis
BlueCare Tennessee
Bodine School
Boys & Girls Club of Memphis
BRIDGES
Catholic Charities of West Tennessee, Inc.
Center for Employment Opportunities
Center for Transforming Communities
Church Health Center
Churches-Families and Communities Together (C-FACT)
City of Memphis – GVP
CMI Healthcare Services
Collective Blueprint
Collierville Literacy Council
Communities In Schools
Community Intervention Memphis
Community Legal Center
Constance Abbey
Coordinated Effort to Enhance Development
(CEED)
Daughters of Zion All Women's Bible College
DeafConnect of the Mid-South
DeNeuville Learning Center
Divine Life
Dress for Success Memphis
Early Success Coalition
Economic Opportunities
Enchanted
Families Matter
Frayser Community Development Corporation
Freedom, Healing, Wholeness INC.
Freeman Outreach Center
Gestalt Community Schools
Golden Leaf Church
Goodwill Homes Community Services, Inc.
Grace House of Memphis, Inc.
Greater Memphis Financial Empowerment Center
Good Shepherd Pharmacy
Harwood Center, Inc.
Hope City
HopeWorks
Integrated Addiction Care
Jesus People Church
JIFF, Inc.
Kindred Place
Knowledge Quest
Latino Memphis
Le Dujour H.E.R.O. Village of the Mid-South, Inc.
Legacy of Legends CDC
Libertas School of Memphis
Liberty Memphis
LifeLine to Success
Literacy Midsouth
Madonna Learning Center
Memphis Area Legal Services, Inc.
Memphis Child Advocacy Center
Memphis Crisis Center T3
Memphis Dream Center
Memphis Gridiron Ministries
Memphis Public Library & Information System (211)
Memphis Jewish Community Center
Memphis Urban League, Inc.
Methodist Le Bonheur Community Outreach
Meritan, Inc.
Metropolitan Inter-Faith Association (MIFA)
Mid-South Food Bank
Mind Renewals, Inc.
Neighborhood Christian Centers, Inc.
New Ballet Ensemble & School
Oasis of Hope
One by One Ministries
Naturally Nurtured Birth Services
Pathways In Education
Phi Beta Sigma Fraternity (Tau Iota Chapter)
Porter-Leath
Progeny Place
Promise Development Corporation
Raleigh Community Christian Child Care Center
Refugee Empowerment Program
RISE Foundation
RiseTN
Room in the Inn
Seedco
Shelby County Dept. of Human Services
Shelby County Schools
Shelby Residential Vocational Services (SRVS)
Southeast Regional Development Corporation (SRDC)
S.O. What! Foundation
STS Enterprise Corporation
Synergy Treatment Centers
Tech 901
The Excel Center
The HART Center
The Salvation Army
The SMART Center
Thistle & Bee Enterprises
TN Voices for Children
United Housing, Inc.
United Way Free Tax Prep (FTP)
University of Tennessee of Health Science Center (UTHSC)
UpSmith, Inc.
Urban Strategies, Inc.
U of M Dean of Students
WorkSteady Works, LLC
YMCA of Memphis & the Mid-South
YWCA of Greater Memphis
Young Ladies of Change, Inc.
*118 Agencies Total as of 08/23 
DOWNLOAD LIST HERE
2Gen for Tennessee
Driving The Dream™ is aligned with the two‐generation ("2Gen") whole family service delivery model that has  been implemented within the Tennessee Department of Human Services. Known as '2Gen for Tennessee,' this approach is consistent with the 2Gen service delivery model, which focuses on creating opportunities  for and addressing the needs of both adults and the children in their lives together. The 2Gen approach recognizes that families come in all different shapes and sizes and that families define themselves.  Our goal is to implement the 2Gen framework within the DTD partner agencies client intake and service delivery model, where all DTD programs are aligned and in synch – ensuring 2Gen tactics are applied when working  with all customers in all aspects of case management and service delivery.
This project is funded under a Grant Contract with the State of Tennessee.
How it works and the expected impact
United Way estimates roughly 20,000 people in poverty can be promptly impacted by Driving The Dream in its early stages if we receive the support we need from donors, grantors, and other sources of philanthropy.
A coalition of local businesses who are all focused on investing in innovative poverty reduction solutions and economic growth strategies will create opportunities for us all. That means nearly 10% of Mid-Southerners in poverty can receive support now, and be connected to resources and opportunities to free them from generational cycles of poverty.
Families and individuals in poverty work with the Driving The Dream providers to create a "map of their dreams," charting the order of steps, programs, and services necessary to help escape poverty and live the life of their dreams.
Leadership - System Advisory Team
Driving the Dream is guided by the System Advisory Team, which is comprised of leaders from the local health and humans services sector.  This guiding body was established to inform and influence system level practice and policy with the goal of addressing structural inequity that has perpetuated poverty in Memphis/Shelby County.
PARTNERS
All DRIVING THE DREAM™ Partners are trained to employ the Transitions to Success® care model and utilize the Arizona Self-Sufficiency Matrix (learn more & see the matrix here). Partners also centralize information, access client data, track client progress, and make/receive referrals through CoactionNet (a local, shared, web-based database).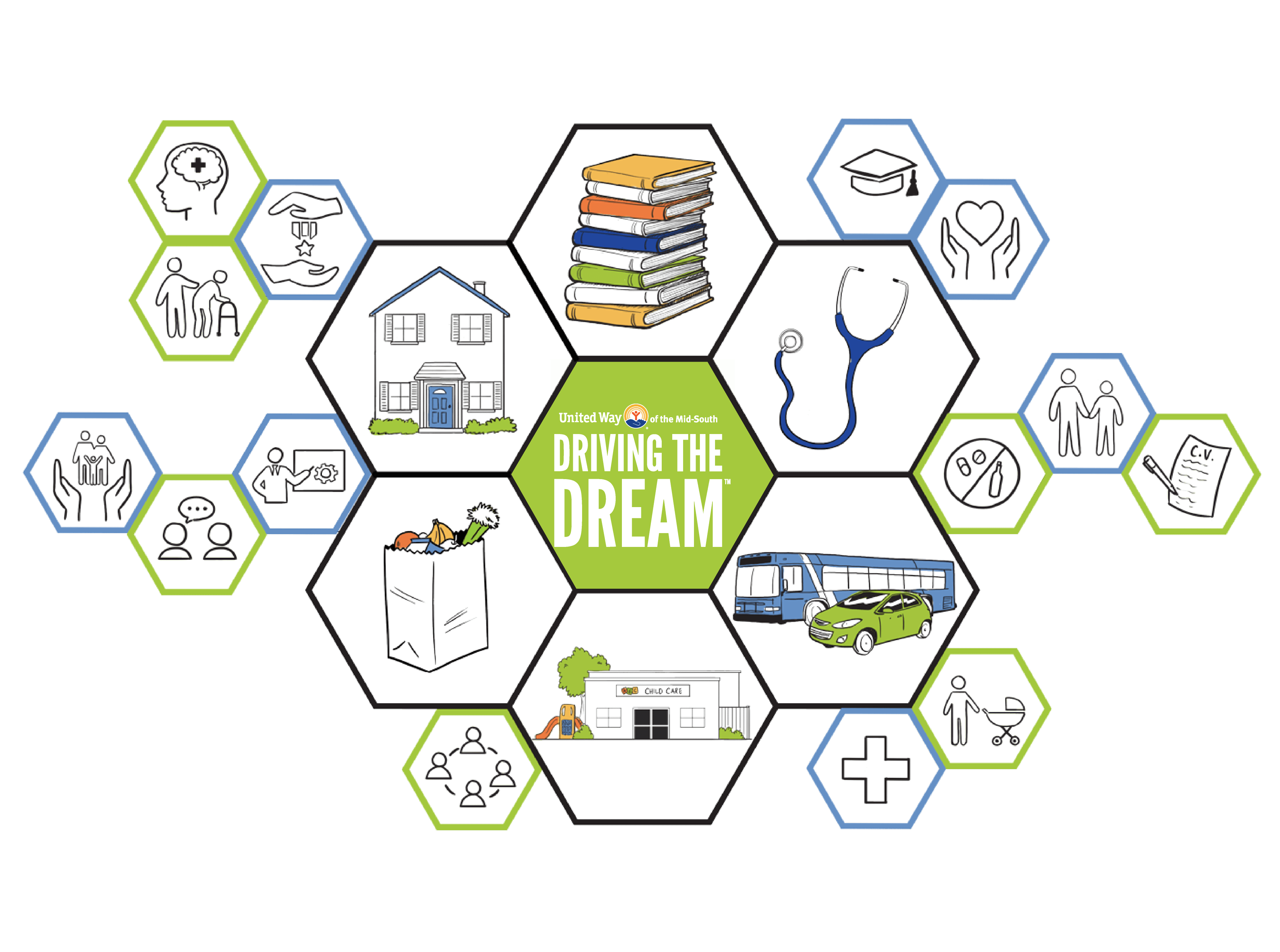 Care Coordination Hubs
DTD Care Coordination Hubs are agencies in the network that employ care coordinators. These Care Coordinators work with individuals to create the "Map of My Dreams"  (care plan), refer families to appropriate services, and provide overall service coordination, coaching and support. The Hubs are housed at partner agency sites alongside their core programs, which increases access and eases stress for families seeking DTD services. The 2021 Care Coordination Hub partner agencies are Communities In Schools of Memphis (CIS Memphis), and Church Health.
Referral Network Partner Agencies
The DTD Referral Partner network is comprised of human services agencies that agree to adhere to  DTD guiding principles, adopt a common referral platform, participate in an enhanced online shared customer data system, and follow formalized policies and procedures for customer referrals and warm hand‐offs. Their primary responsibilities include informing individuals of services available at the Hubs, referring appropriate individuals to the Hubs, referring individuals to other DTD Referral  Partners, and accepting eligible individuals referred through the DTD network.
Outreach and Education Partner Agencies
Outreach and Education service partners actively reach out to individuals who could potentially benefit from Driving The Dream™, educate individuals about DTD and related resources, and connect individuals to a Care Coordination provider. Partners include agencies that frequently interface with clients, such as government agencies providing benefits or direct client services, 2‐1‐1, hospitals, childcare providers, schools, first responders, crisis centers, outreach coalitions, etc.
Driving the Dream is comprised of a number of partners
American Red Cross, Mid-South Tennessee
America Works
BlueCare Tennessee
Center for Employment Opportunities
CMI Healthcare Services
Coordinated Effort to Enhance Development
Economic Opportunities
Enchanted
Frayser Community Development Corporation
Freedom, Healing, Wholeness INC.
Freeman Outreach Center
Greater Memphis Financial Empowerment Center
Good Shepherd Pharmacy
Integrated Addiction Care
Le Dujour H.E.R.O. Village of the Mid-South, Inc.
Libertas School of Memphis
Memphis Area Legal Services, Inc.
Methodist Lebonheur Community Outreach
Progeny Place
Promise Development Corporation
Refugee Empowerment Program
Room in the Inn
RiseTN
Seedco
Shelby County Dept. of Human Services
Shelby County Schools
Shelby County Schools (Office of Early Childhood)
STS Enterprise Corporation
Thistle & Bee Enterprises
University of Memphis Dean of Students
*118 Agencies as of 10/31/22
Collaborative Partner Institutions (Foundations, City/County/State Government)
Funders and Supporters
Anthem Foundation
BlueCross of West TN
First Horizon

JT and Kathy Buckman Gibson

Regions Bank Foundation
Siemer Institute

The Anonymous Foundation